We have some fabulous new goodies in the store this month, first up, our very cute and adorable mega collab P.S. I Love You and it's coordinating quick pages, and with any $10.00 purchase in the store you get these quick pages for FREE. Check it out!
Our CU Grab Bags are now themed, and February's grab bag is All About Boys. Packed full with 40 items and priced at only $5.99. Don't forget, all our mega collabs and CU grab bags go through a strict quality check process, so you are only getting top quality!
Next up, our February Build a Kits. Did I ever mention I LOVE the color purple. This palette is so much fun and now I want all these BAK pieces. Check them out by clicking on the below flier. Don't forget if you buy 3 and use the coupon code on the flier you save half, wow!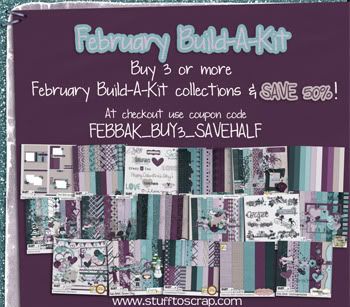 Have you registered for the retreat yet? Can you believe it is only 12 weeks away? Get your retreat ticket today!